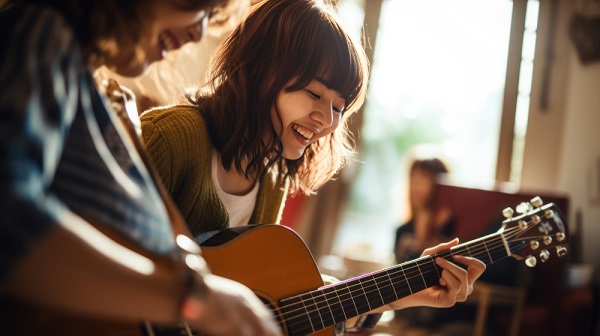 Picture the cozy, comforting strumming of an acoustic guitar or the exciting, electric buzz of an electric guitar playing cool tunes. You're about to explore the world of music, and it all starts with learning about chords, scales, and tuning. If you're new to the guitar, don't worry – these are like the guiding lights on your way to becoming a music expert. In this beginner's guide, we're going to help you understand chords, scales, and tuning, setting you on a path to your own musical journey.
Understanding Chords
Chords are the building blocks of music, and on the guitar, they are created by fretting multiple strings at the same time. Here's a quick introduction to some basic chords you'll want to master:
Open Chords: These are your starting point. Open chords like C, G, and D are formed by using a combination of open (unfretted) strings and finger placements on the frets. Practice transitioning smoothly between these to gain dexterity.
Barre Chords: Once you're comfortable with open chords, it's time to tackle barre chords. These involve using one finger to press down all the strings across a single fret. They provide a movable, versatile way to play different chords up and down the neck.
Power Chords: Popular in rock and punk music, power chords consist of just two or three notes, making them relatively easy to learn. They're a great introduction to more complex chord progressions.
Scales Demystified
Scales lay the foundation for melodies and solos, so you should learn the basic guitar scales. They determine the mood and character of your playing. Here are two scales every newbie should grasp:
Major Scale: This is the most fundamental scale in Western music. It consists of seven notes and is the basis for creating cheerful, uplifting melodies. The pattern for the major scale is whole step, whole step, half step, whole step, whole step, whole step, half step.
Minor Scale: Slightly darker in tone, the minor scale is essential for adding depth and emotion to your playing. The pattern for the natural minor scale is whole step, half step, whole step, whole step, half step, whole step, whole step.
Tuning Your Guitar
Tuning is the first step to making your guitar sound great. Here's how to tune your guitar:
Electronic Tuner: The easiest and most accurate method is to use an electronic tuner. Simply pluck each string and adjust the tuning pegs until the tuner displays the correct note.
Tuning Fork or Online Tuner: If you don't have an electronic tuner, you can use a tuning fork or an online tuner app or website to generate the correct pitch for each string. Match your string's pitch to the reference.
Relative Tuning: If you don't have any tools, you can tune the lower strings relative to the higher ones. For instance, if you know your 5th string (A) is in tune, you can tune the 6th string (E) to match it by fretting the 5th string at the 5th fret and adjusting the 6th string accordingly.
Remember, learning the guitar is a journey, not a destination. The key to mastering chords, scales, and tuning is practice, patience, and consistent effort. Here are some tips to help you along the way:
Daily Practice - Dedicate some time each day to practice. Start with the basics and gradually work your way up to more complex techniques.

Use Online Resources - There are countless video tutorials, chord charts, and scale diagrams available online to guide you.

Learn Songs - Playing your favorite songs can be a fun and motivating way to improve your skills.

Take Breaks - Don't overdo it. Take short breaks to prevent hand fatigue and maintain your enthusiasm.

Seek Guidance - Consider taking lessons from a teacher, either in person or on online websites, for personalized guidance.
With dedication and the right support, your guitar journey will take you to a place filled with harmony and fulfillment. Keep playing, and savor every moment of the musical adventure!
Related Reading:
A Very Short, Fairly Interesting and Reasonably Cheap Book About Studying Strategy (Very Short, Fairly Interesting & Cheap Books)
Pale & Interesting: Decorating With Whites, Pastels and Nuetrals for a Warm and Welcoming Home
A Very Short, Fairly Interesting and Reasonably Cheap Book about Studying Leadership (Very Short, Fairly Interesting & Cheap Books)