Have you ever seen a movie that, for some reason or another, just sticks with you? Below you'll find what SURFING Magazine considers the Top 25 surf movies of all time. They polled dozens of surfers and filmmakers using a points system to create the list.
25. Second Thoughts (Timmy Turner, 2004)

The dawn of film-yourself filmmaking, as Turner and friends maroon themselves near Indonesian perfection and slowly go mental.
Highlight: Killing the goat, and the epic score at "The Right."
Available: The Surf Network
Movie Trailer
24. What's Really Going On (Mike Reola, 1995)
The yang Momentum's yin. It was raw, it was crude, but WRGO - along with its increasingly scandalous sequel - became the inspiration for everything from Jackass to reality TV to airshows. It also launched the careers of icons Chris Ward and Cory Lopez.
Highlight: Fourteen-year-old Chris Ward looking like a young Curren. The formal introduction of Randall.
Available: Ally Video
23. Big Wednesday (John Milius, 1978)

Apocalypse Now director Milius manages Hollywood's sole representation in SURFER Magazine's Top 25 with his loose retelling of surfer Denny Aaberg's Malibu days.
Highlight: What else? Big Wednesday. Plus, The Masochist flexing.
Available: Amazon
Movie Trailer

22. Wave Warriors III (Herbie Fletcher, 1998)
Fletcher's straight-and-to-the-point approach and total involvement made his Wave Warriors series a precursor to the Momentum-style push of the '90s. Christian and Archy's sections to speed metal launched the next generation of aerialists.
Highlight: Christian Fletcher getting really weird in and out of the water.
Available: Amazon
21. Riding Giants (Stacy Peralta, 2004)

The last word in big-wave documentaries, taking us from the pioneer days to Maverick's to the front lines at Jaws. Gripping testimonials are enough to make manly men cry.
Highlight: Greg Noll's one-liners and Laird's domination at Jaws.
Available: Riding Giants
Movie Trailer
20. Pump! (Billabong, 1990)

This gritty Billabong promo vid could be the single most romantic ode to Mark Occhilupo on celluloid. Made us all want to pack up, cut the legs off our fullsuits and move to France.
Highlight: Oc and Ronnie at J-Bay; Oc on the Basque Coast to the Slaves' "Poverty of Love."
Available: ob surf shop
19. Montaj (Matt Gye, 2002)

A hyperdrive sequence of technical airs and tuberiding so futuristic, it feels post-apocalyptic. Taj Burrow's follow-up to his first signature film, Sabotaj, Montaj is still ahead of its time five years later.
Highlight: Taj impossibly drained and impossibly contorted above the lip in his own backyard.
Available: Amazon
18. Sipping Jetstreams (Taylor Steele and Dustin Humphrey, 2006)

Gorgeously filmed ode to the out-of-the-way surf destinations (Egypt, Cuba, Hong Kong); marks a new era for Taylor Steele assisted by photographic visionary Dustin Humphery.
Highlight: Slater's "best day ever" in Barbados.
Available: Studio411
Movie Trailer
17. Magnaplasm (Richard Woolcott and Troy Eckert, 1998)

A rich and textured journey to Hawaii's outer islands and beyond with a budding Bruce Irons and Team Volcom. Made claymationcool again.
Highlight: The frying egg, the fish and Bruce to Ween's "Buenos Tardes Amigo."
Available: Volcom
16. Kelly Slater in Black and White (Richard Woolcott, 1991)

The essential signature film of the essential surfer on the verge of greatness. "It's the morning of the final" remains one of the most quoted lines in surf-movie history.
Highlight: Kelly's reverses and his "star trunks" at Lowers.
Available: Amazon
Movie Trailer
15. Beyond Blazing Boards (Chris Bystrom, 1985)

Captured the mid '80s performance push and our love for Curren and the Aussies, all scored to some mod Untouchables songs.
Highlight: Occy's "Wild Child" frontside air, Ronnie Burns at huge Padang
Available: Surfing Videos
Video Excerpt
14. Litmus (Andrew Kidman and Jon Frank, 1997)

Grainy, back-light and drenched in souly wanderlust, Kidman and Frank traipsed the world to rediscover the sensory beauty of wave-riding.
Highlight: Joel Fitzgerald's Irish slab assault.
Available: Amazon
13. The Seedling (Thomas Campbell, 1999)

An artistic, timely, bold statement on the logging resurgence of the late '90s. Simple, beautiful, and a nod to the classics at a time when surfers needed it most.
Highlight: Dane Peterson and Jimmy Gamboa "really wailing" at First Point.
Available: Studio411
Movie Trailer
12. The Big Surf (Bud Browne, 1957)

Bud Browne was the firstest and the bestest. He pioneered commercial surf movies and did it with flicks like this one, entertaining, hardcore, and with no agenda other than stoke and recording the sport as it passed in front of his lens.
Highlight: Surf and the surfing life at Makaha in the early '50s, shot like a well-made home movie.
Available: n/a
11. September Sessions (Chris Malloy and Jack Johnson, 2000)

Like a bonus track to their previously released Thicker Than Water, September Sessions follows Slater, Machado, and Dorian on a single, epic Indo boat trip score. Totally simple, and equally epic.
Highlight: The whole movie feels like a single, all-time session.
Available: Studio411
Movie Trailer
10. First Chapter (Jason Muir and Dane Reynolds, 2006)

The gold standard in high-performance surfing thanks to America's next great hope, Dane Reynolds, combined with a good dose of postmodern, anti-corporate cynicism. Is, and will likely remain, the most studied video of the decade.
Highlight: Dane surfing at home and his interview about his dog.
Available: Amazon
Movie Trailer
9. Five Summer Stories (Macgillivray/Freeman, 1972)

A slick, ambitious surf film that defined the Lopez era and the North Shore as ground zero.
Highlight: Gerry Lopez at Pipe to Honk's "Tunnel of Love" and BK at Honolua to Honk's "Love You Baby."
Available: SurfVideo.com
Video Excerpt
8. Green Iguana (Jack McCoy, 1992)
McCoy at his best, mixing magical realism with cutting-edge cinematography in some mind-boggling West Oz desert slabs. With his Bunyip/Iguana series, he proves surf movies can be trippy, fun and hardcore all at the same time.
Highlight: Occy and Margo in the West Oz desert. Munga pulling into huge right pits.
Available: n/a
7. Searching for Tom Curren (Sonny Miller and Derek Hynd, 1996)

The crowning achievement of Miller and Rip Curl's Search series - Tom Curren's grooviest and most superhuman moments captured in 16mm.
Highlight: Tom's "first" wave at J-Bay and his fireball fish sessions in Indo.
Available: Amazon
6. Free Ride (Bill Delaney, 1977)

The next level in cinematography and performance thanks to cameraman Dan Merkel and "Free Riders" Shaun Tomson, Rabbit, PT and Mark Richards. Shaun Tomson slow-mo at backdoor remains as dramatic as Surf Theater gets.
Highlight: Water footage from Backdoor/Off the Wall, Rabbit's see-saw cross-steps, MR at Honolua
Available: n/a
Video Excerpt
5. Innermost Limits of Pure Fun (George Greenough, 1969)

Unwittingly documents the advent of the Shortboard Revolution, culminating in Greenough's groundbreaking, POV tube-footage shot with shoulder-mounted cameras from his surf mat.
Highlight: Hypnotic inside-the-tube footage.
Available: SurfVideo.com
Movie Intro
4. Thicker Than Water (Chris Malloy, Emmett Malloy and Jack Johnson, 1999)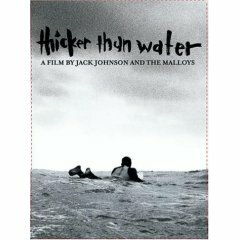 Combining vivid 16mm film, matured "Momentum Generation" surfers like Dorian, Slater and Machado, prime waves from Indo to Ireland, and a Jack Johnson-influenced soundtrack destined to become a stand-alone album, this film staked claim on a whole new era in surf filmmaking; one of the most re-watchable shred flicks out there.
Highlight: The Green Board; Conan Hayes and Noah Johnson's Tahitian dream session.
Available: Woodshed Films
Movie Trailer
3. Momentum (Taylor Steele, 1992)

High action, no frills, punk rock, breakthrough film for both Taylor Steele and the entire "Momentum Generation" of Slater, Machado, Dorian and crew; inspired a generation of surfing and a flood of videos to come.
Highlight: Slater's backside air in Puerto, Dorian's second reefer, Chesser at Off the Wall.
Available: Koastal Media
Movie Trailer
2. Morning of the Earth (Alby Falzon, 1972)

Groove-driven ode to the "country soul" nature trip, follows pioneering Aussies like Michael Peterson and Nat Young in their search for surfing's Garden of Eden - which, featuring surfers Steve Cooney and Rusty Miller, they eventually find the Bali.
Highlight: The first-ever footage from Uluwatu.
Available: Morning of the Earth
Movie Intro
1. The Endless Summer (Bruce Brown, 1966)

The immaculate connection. With one slide down the sand dune and a first look at "Bruce's Beauties," no surf movie enchanted more people - surfers and non-surfers alike - than the true original. And it continues to have the same effect today.
Highlight: Mike Hynson and Robert August worshipping Cape St. Francis; the reverse Patrice Lumumba in West Africa.
Available: Amazon
Movie Trailer
Namaste!
Related Reading:
MediaWiki (Wikipedia and Beyond)
Jump (Uncategorized)
QuickBooks 2009 For Dummies