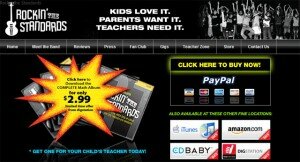 From Source: Mashable
Rebecca Zook is an online female math tutor who has been helping students get math into their brains for seven years. She blogs about learning at Triangle Suitcase.
We've sorted the contenders from the pretenders and found five genuinely fun ways to help your kids learn math this summer. These unique technologies go way beyond the world of flashcards, and use surprising tools including rap music, adaptive technology, psychological research and wailing guitar solos.
They're fun. They're easy to use. And they aren't lame.
Listropolis' Take:
Not your typical Mashable post, but it's surprisingly interesting. If you don't have children, you can probably skip this one, but if you do...this list contains some great sites to help with math.
See the List
Related Reading:
Featured Reviews in Mathematical Reviews 1997-1999
Mexican Everyday (Recipes Featured on Season 4 of the PBS-TV series "Mexico One Plate at a Time")
Recipe for a Book Club: A Monthly Guide for Hosting Your Own Reading Group: Menus & Recipes, Featured Authors, Suggested Readings, and Topical Questions